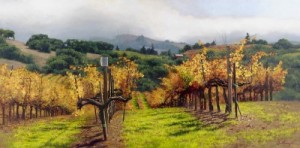 Join us 'First Thursday', June 1st 
5 p.m.-8 p.m.
for a wonderful trip to the wine country.
We will be featuring the artwork of California 'wine'scape artist June Carey.
Enjoy a visual trip through the vineyards of Northern California and the Italian wine region. 
Chat with wine maker Neil Glancey and taste some of his award winning wines from Cold Springs Winery.
'First Thursday' special, save 25% on all in stock artwork by June Carey. 
Many of these limited edition canvases have been hand enhanced for a truly unique collectible piece of art.