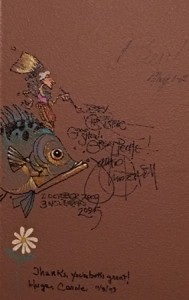 It is with profound sadness that we inform all of our customers and friends that artist, storyteller, master of imagination and dear friend
James Christensen passed away Sunday, January 8, 2017.
Jim's work was popular in the gallery right from the very beginning. From Jim's first show in 1998 to his last show in 2008 and all shows in between, Jim's enthusiasm for art, storytelling and Boise were contagious. The kindness he showed each and everyone of his fans was proof of his gentle nature and big heart. We were fortunate to have Jim, his wife Carol, his daughters Cassandra and Emily all stay with us at one time or another. His love of Gino's Restaurant, great conversation and wonderful sense of humor will always be some of our fondest memories.
R.I.P. 
Inspired by the world's myths, fables and tales of imagination, James C. Christensen's work adds up to more than a beautiful – if sometimes "curious" looking work of art. Having taught art professionally for over 20 years, he thought of the world as his classroom. His hope is that through whatever he creates — be it a porcelain, fine art print or book — he can convey a message, inspiration or a simple laugh. He believes that teaching people to use their imagination helps us find solutions to sooth the stresses of everyday life-or get a little lift to help us keep going. In short: all things are possible when you share Christensen's philosophy that "Believing is Seeing."
Look for our upcoming show honoring James, First Thursday in March.