Well if you could not make it down for the private jewelry show last month, have no fear we still have a fabulous collection of jewelry left to see and purchase. Probably our largest shipment to date and the most unique pieces ever brought in.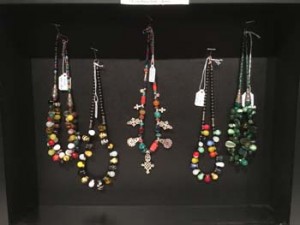 A new collection of African Amber (both red and yellow), new Gashi and Ethiopian Cross Necklaces, Mali Wedding Bead Necklaces, a fantastic collection of new pearl and stone collars, wonderful new bangles and an amazing selection of earrings to go with just about every piece of jewelry in stock.
Heck this selection is so large we had to purchase a new jewelry case!