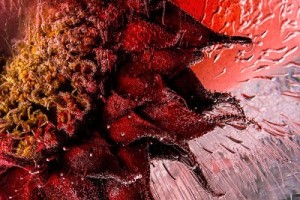 Join us 'First Thursday' and get your 'Spring' on!
Enjoy the "frozen florals" by artist Mo Devlin,
April 6th from 6-9
After this past snow filled winter, this show is a welcome breath of fresh air. Mo, a photographer by trade has taken his talent to a new level. His first attempt at freezing his subject matter was successful, but tropical fish, very bright and colorful can be expensive subjects. So, wanting to continue with this unique process, Mo needed to use a subject matter just as beautiful, but a little more affordable, hence the flowers. Freezing them in trays of water has brought about some very interesting patterns, not only from the air bubbles in the water, but from the flowers themselves. Now the only issue he has is trying to make his wife understand that these beautiful bouquets of flowers he brings home are for his work and not for her.