About The Artist/Art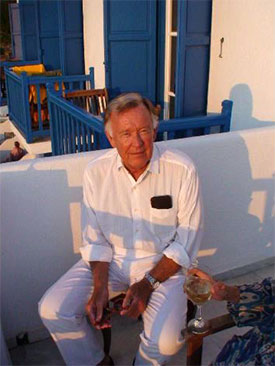 About Thomas McKnight
Born in 1941 in Lawrence, Kansas, Thomas McKnight grew up in the suburbs of Montreal, New York, and Washington, D.C. After receiving his Bachelor's Degree from Wesleyan University, he studied art history at Columbia University. He then served in Korea with the army for two years, and later worked for Time Magazine.
Since devoting himself to painting full time in 1972, McKnight's work has been exhibited in over four hundred one-man shows throughout the United States, Europe, and Japan, and has appeared everywhere from the cover of Reader's Digest to Japanese calendars. His prints have appeared in numerous movies and television shows, including Beverly Hills 90210 and When Harry Met Sally. Along with countless private and public collections, McKnight's work is represented in the permanent collection of the Metropolitan Museum in New York and Washington's Smithsonian Institute as well as the New Britian Museum of Art in Connecticut.
In 1988 McKnight's print Constitution was chosen as the official image of the U.S. Constitution Bicentennial. In fact, Constitution was one of the only three art works that the First Lady Hillary Rodham Clinton chose to bring to Washington from Little Rock when President Clinton was elected. The serigraph hung in the White House solarium which served as the First Family's living room. Longtime McKnight fans, the Clintons asked the artist to create an image for the Presidential Christmas card in 1994, in 1995, and 1996. His warm images of the White House Red, Green, and Blue Rooms at holiday time have now appeared on almost a million cards sent out worldwide from the White House.
Back To Top