About The Artist/Art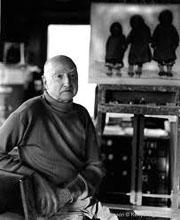 About Fred Machetanz
His art career spanned more than 70 years, and his paintings are among the most sought-after Alaska works. At the Palmer home he shared with his late wife, Sara, he used his paintbrush and his imagination as powerful tools, both in churning out paintings that still command top dollar and as an inspiration to other Alaskan painters.
"He's a giant. But not only for the quality of his work, which is just impeccable, but because of his contributions to other artists and the community," Palmer painter Gail Niebrugge said of Machetanz at his 90th birthday celebration four years ago. "He's one of Alaska's most significant painters."
His work is considered to be among the best and most distinctive art ever produced relating to Alaska. He is held in the same regard as Sydney Laurence, another notable Alaskan artist. But as much as he was one of the most well-known artists of his time, Machetanz was just as happy being an ordinary Palmer resident. He and his family donated large parcels of their Palmer land to the University of Alaska, and his family's contributions to the community are too numerous to list.
Machetanz was born in 1908 in Kenton, Ohio. He trained in art at Ohio State University, producing several illustrations that were used for football program covers and other collegiate purposes. He also visited and trained with legendary artists like Norman Rockwell, N.C. Wyeth and Maxfield Parrish.
He earned a master's degree in art in 1935, the same year his love affair with Alaska began, when he first visited his uncle Charles Traeger's remote Unalakleet trading post. Although he left Alaska, he could not stay away and eventually returned. He met writer Sara Dunn on a steamship in Skagway, and the couple was married in Unalakleet.
Back To Top