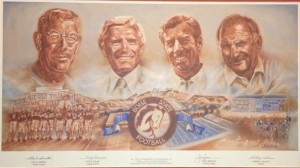 Happy 100th Birthday Coach Lyle Smith!
In honor of Coach Lyle Smith turning 100 years old today March 17th, we are selling this print 'The Tradition Continues' for the sale price of $65. (reg. $195)
100% of every print purchased will be donated to the Lyle Smith Foundation.
 Each limited edition print is hand signed by four former coaches that helped get Boise States football program where it is today.
Coach Lyle Smith 1947-1967  ~  Coach Tony Knap 1968-1975  ~  Coach Jim Criner 1976-1982 ~ Coach Pokey Allen 1993-
Coach Smith's record was a staggering 156-26-6 (.846) Winning 12 Conference titles and 1 National Championship.
Many of you might not have known this, but Boise State once had a baseball program. Terry was given a scholarship to play Baseball at  Boise State back in 1969. Lyle Smith just happen to be his coach. Terry has very fond memories of coach Smith and Boise State, this is his way of paying it forward.