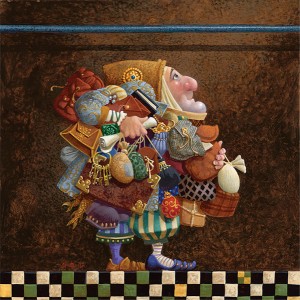 Join us in the month of January as we celebrate the life of Utah artist James Christensen.
It was a year ago, Jan. 8th when we received the news of the passing of our dear friend. 
Known mostly for his fantasy, religious, Shakespeare and 'life lessons' based artwork, Jim was also a fantastic storyteller. Stop by the gallery to get reacquainted with Jim's artwork, take time to read the stories and appreciate the talent of this artist. We will have a full display of framed paper and giclee canvas works of art, along with figurines and books for sale.
*through the month of January take 20% off framed and unframed artwork, apply promo code 20OFFJAMES at the checkout. 
Many fond memories were made with Jim at our gallery with too many shows to count. His respect of others and crazy sense of humor are a loss for mankind.  He is deeply missed. 
To view his artwork click here